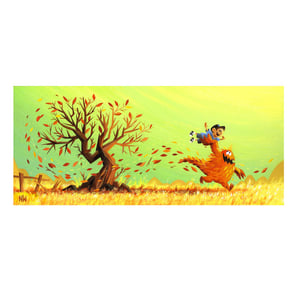 $

40.00
"Summer Leaves" is a limited edition signed and numbered print by artist Nate Wragg. The original piece was featured in the Totoro Forest Project in the summer of 2008.
The Totoro Forest Project was an art auction that was held to help raise awareness and funds to save the Sayama forest in Japan. This was the forest that helped inspire the famous Japanese animated film "My Neigboor Totoro."
The original painting was also featured and exhibited at the Cartoon Art Museum in San Fransico, and was published in the Totoro Forest Project Book, also released in 2008. The original has sold and is no longer availiable. This print is a limited edition of (99) signed.
Printing Method : Giclee
Paper type : Velvet Fine Art
Size : (H) 7.5 " x (W) 15.5"